Our history : a company coming from research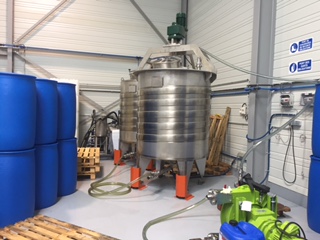 Created in 2013, Kemerid is a company based in Castanet-Tolosan. Possessing it's own production tools together with a research and an analyse laboratory, Kemerid develops, produces and sells innovating products respectful of the environment and the industry.
Erik RINGOT, CEO of Kemerid and Serge DA SiLVA, the general manager, have the aim to develop an industrial tool dedicated to the green chemistry, jobs creator in the Midi-Pyrénées area.
A development based on innovation
In 2014 after realizing the harmful effects of lubrification on the environment in the forest industry ( more than 3,6 million of litters of chain oil are dumped in nature every year), Kemerid started distributing a range of biodegradable and non-toxic chain oil for the actors of logging forestry.
At the same time, technical and commercial employees were hired and innovating products aimed for construction industries and public works were developed (for the research project AGRIBTP).
At the end of 2015, the first formulas of the products were tested, modified and validated on the site for a commercialisation of the products in 2016.
Closely related to the market and by answering to the needs of industrials, the products development are made according to the customers needs in order to bring solutions that match the regulation norms, technics and costs.